Dawn Roth Horsemanship Branding Program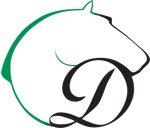 g2 partners: equine developed a completely new repositioning and branding program for Dawn Roth, Parelli 3* Licensed Professional. New logo included creation of "Avatar" for use on FaceBook, Parelli Connect, on business cards and promotional material.
The branding program included new website with color pallet highlighting the logo, development of copy focusing on the relationship with horse,  photo selection, as well as search engine optimization (SEO). A template for email blasts was also created in this new design style.