Kelly Sigler – Branding Program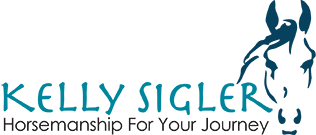 g2 partners: equine repositioned and created a new branding program for Kelly Sigler, Licensed Parelli Natural Horsemanship Instructor and International Society of Rider Biomechanics Instructor. The repositioning effort moved Kelly away from leading solely with Parelli and refocused her message on Natural Horsemanship and how she can help individuals with their horses their entire journey, no matter their discipline.
Included development of new logo with tagline of "Horsemanship for Your Journey", copy for website and literature, new website, flyers for individual clinics, email template.